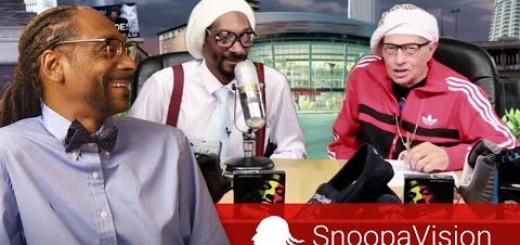 [© 2023 Reflex FM]

vorige overzicht volgende


02.04.2016
Snoop Dogg heeft 1 april niet ongemerkt voorbij laten gaan. In de traditie van 1 april grappen liet hij de wereld geloven SnoopaVisision te lanceren.

Wat is SnoopaVision? 'It's the ability to watch every video in 360 with Snoop Dogg,' vertelde Ben Relles, the Director of Innovation at the company.

Snoop zelf vertelde:'coded the hell out of this software.'This technology is so immersive that sometimes, man, I forget if I'm in a video or real life.'

Dit alles was natuurlijk een grote 1 april grap compleet met een aantal zeer grappige video's met Snoop in de hoofdrol.




---
Meer over Snoop Dogg:
09/07/2016 Snoop Dogg en The Game lopen mee in optocht voor vrede
08/07/2016 Snoop Dogg dropt Point Seen Money Gone ft.Jeremih
20/10/2015 Snoop Dogg viert vandaag opnieuw zijn 44ste verjaardag
02/12/2014 Snoop Dogg met unieke show 18 januari in Pastronaat Haarlem
16/10/2014 Snoop Dogg zal Iggy Azalia niet meer belachelijk maken
26/12/2013 Snoop Dogg dropt Elvis kerstnummer op Soundcloud
25/12/2013 Snoop Lion dropt Smoke The Weed ft.Collie Budz (Video Premiere)
24/11/2013 Snoop Lion dropt nieuw album onder de naam Snoopzilla
04/06/2013 Snoop Lion dropt Ashtrays and Heartbreaks ft.Miley Cyrus (Video)
12/05/2013 Snoop Dogg betaald zijn belastingschuld in keer af
08/04/2013 Snoop Dogg heeft vrede met single No Guns Allowed

---