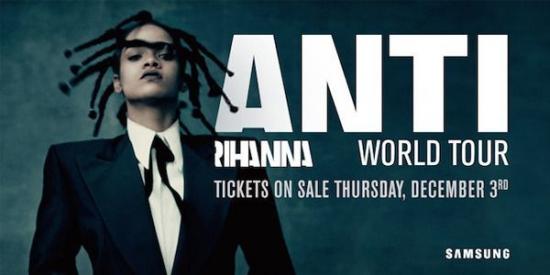 [© 2023 Reflex FM]

vorige overzicht volgende


28.01.2016
Rihanna heeft vandaag haar nieuwe single 'Work' uitgebracht. Op de single krijgt ze hulp van haar voormalige schatje Drake, die de raps voor zijn rekening neemt. Het is een door Boi-ida en PartyNextDoor geproduceerde single die afkomstig is van haar langverwachte album 'Anti' dat hopelijk nu eindelijk is een keer uitkomt.

De single 'Work' hoor je deze week bij Reflex FM lekker veel voorbijkomen want wij hebben hem gelijk uitgeroepen tot Reflex Sensation, met elk uur airplay.

Op 11 juni 2016 trapt Rihanna haar Europese tournee af in de Amsterdam Arena. Kaarten voor dit concert waren vrijwel direct na start van de voorverkoop uitverkocht.


---
Meer over Rihanna:
01/04/2016 Rihanna dropt video voor single Kiss It Better
29/01/2016 Rihanna blij met al 1 miljoen downloads van album Anti
24/11/2015 Rihanna komt 11 juni 2016 naar Amsterdam Arena
24/11/2015 Rihanna dropt haar nieuwe album Anti op 4 december
14/05/2015 Dior klaar voor lancering reclamecampagne met Rihanna
03/11/2014 Rihanna zonder bloot terug op op Instagram
07/05/2014 Rihanna verlaat Def Jam en tekent bij Roc Nation
31/01/2014 Shakira dropt pikante video Can't Remember To Forget You
23/01/2014 Shakira breekt record met Can't Remember To Forget You
16/01/2014 Rihanna uit de kleren voor Voque Brazil
13/01/2014 Nieuwe single Shakira ft.Rihanna in premiere bij Reflex FM!

---