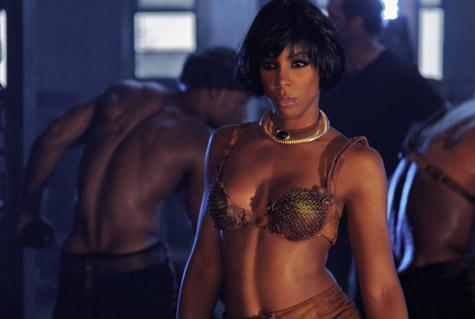 [© 2023 Reflex FM]

vorige overzicht volgende


19.01.2013
Kelly Rowland heeft vandaag haar seksueel getinte single 'Kisses Down Low' afkomstig van het album Year of the Woman uitgebracht. De Destiny's Child diva doet dat opnieuw met producer Mike WiLL, die ook haar vorige single produceerde.

'So boy just take your time, send chills down my spine/ You're one of a kind, that's why I gotta make you mine,; zingt Kelly.

Kelly is druk met het afronden van haar vierde album. Hierop werk ze ook samen met de echte old skool producers van het eerste uur, Jimmy Jam en Terry Lewis.


---
Meer over Kelly Rowland:
12/05/2014 Kelly Rowland trouwt in het geheim met manager Witherspoon
29/05/2013 Kelly Rowland in huilen uitgebarsten tijdens zingen Dirty Laundry
16/05/2013 Kelly Rowland dropt nieuwe single Dirty Laundry
15/11/2012 Kelly Rowland dropt nieuwe videoclip voor single Ice
18/10/2012 Kelly Rowland oogt sexy op de set van de Ice video
21/08/2012 Kelly Rowland dropt nieuwe single Ice feat.Lil Wayne
16/06/2011 Kelly Rowland dropt Lay It On Me feat.Big Sean
07/04/2011 Kelly Rowland dropt video Motivation feat.Lil Wayne
14/03/2011 Kelly Rowland dropt single 'Motivation' feat.Lil Wayne
02/02/2011 Nelly en Kelly Rowland in Mexico voor nieuwe video

---