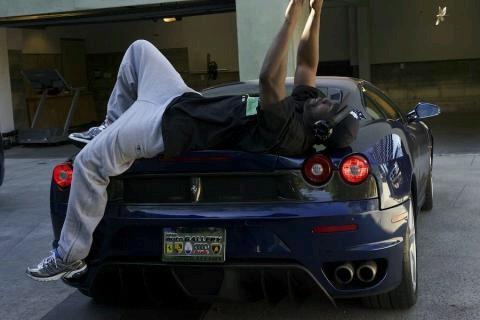 [© 2022 Reflex FM]

vorige overzicht volgende


23.10.2012
50 Cent is boos op de bekende en zeer populaire 'Cash Club' in Dubai. De organisatie van een afterparty liep fout waardoor hij niet kon optreden. De woedende rapper waarschuwde zijn fans en de rest van de wereld via Twitter dat de Cash Club oplichters zijn, en dat ze er vooral niet moeten uitgaan.

De rapper schreef de volgende Tweets:
"There is no after party tonight. Don't waste your time or money. (scam)"

Maar daar liet 50 Cent het niet bij want korte tijd later schreef hij deze Tweet:"Ill be at the Atelier fest in Dubai but no after part. Cash club is No good (scam)'.

"I'm not going to cash club don't waist your money. I will not be at a after party 50cent,"

En: "Jankie promoter cash club is a no go Dubai 50cent'.

"No CASH CLUB do not go.WARNING".

De club reageerde op de Tweets van 50 Cent, maar gaf de organisator van de afterparty de schuld. Ze schreven de volgende Tweet:"@zak_vision55 indeed the promoters of Atelier made a wrong deal with 50 and we were mentioned since we were the official club for the AP!".




---
Meer over 50 Cent:
10/04/2014 50 Cent boos om betalen van 16 miljoen dollar schade
03/04/2014 50 Cent maakt acteer comeback in de film Spy
19/03/2014 50 Cent dropt single en video Don't Worry Bout It (Premiere)
18/08/2013 50 Cent beschuldigt rechter van racisme
04/07/2013 50 Cent slaat woning van ex-vriendin kort en klein
02/02/2013 50 Cent maakt Gunplay belachelijk in Major Distribution video
25/01/2013 50 Cent dropt video Major Distribution ft.Snoop Dogg en Young Jeezy
28/11/2012 50 Cent My Life feat.Eminem en Adam Levine (Video Premiere)
23/11/2012 50 Cent en Game delen maaltijden uit in New York
31/08/2012 50 Cent wil 285.000 dollar van ex koptelefoon zakenpartner
06/07/2012 Jarige 50 Cent trakteert zijn fans op gratis mixtape

---